TRACKING VEHICLES
Chapman Dually
The latest addition to our innovative tracking vehicle fleet is the Chapman Dually, hard at work on the upcoming Brad Pitt movie FURY. The Dually is a stable and maneuverable camera platform for off-road tracking shots in all weather conditions.
Thanks to a turbo charged V8 diesel engine, the Chapman Dually carries (mounted on a self-leveling post) our Hydrascope Telescopic Cranes, our Lenny Arm cranes (remote camera only) and a safely harnessed crew of crane technicians on the rear platform through deep mud, sand, swamps and snow, thanks to it's 4x 18" wide Tank Tracks (you did read that correctly)! Inside the Cab there is room to comfortably seat 4 technicians (in addition to the driver) with mounting options for camera controls and monitors.
The Chapman Dually can switch back to a normal road going configuration (regular wheels) in a relatively short time and has the option to mount multiple cameras and lighting, anywhere on the vehicles exterior.
Features
The only heavy duty all weather, all-terrain vehicle available in the UK, designed to carry Hydrascope Cranes and Lenny Arm Cranes with a full crew safely and reliably.
The Dually is equipped with Chapman's Automatic self levelingcentre post for all crane arms. Get level shots on a gradient or uneven ground in seconds.
Customised mounting plates for multiple cameras & remote heads on the front and rear.
Trained and experienced technicians and drivers.
Already proven in some of the most demanding filming conditions on a major Hollywood Blockbuster, thanks to an all weather design.
V8 Turbo Charged Diesel engine for high-torque at low revs, with a top speed of 40mph off road when using tank tracks.
State of the art Tank tracks designed with anti slip, high torque rubber train, for use on hard and soft ground including rocks.
Tank Tracks for extreme off road conditions are switchable to conventional radial tyres for use on normal road surfaces for conventional tracking shots.
In Cab mounting options for control surfaces and monitors.
Matte black finish for reduced reflection and glare.
The only off-road, rough-terrain capable tracking vehicle for rock steady tracking shots.
For the best tracking shot results you need our Stabilised Remote Heads and the Chapman Vibration Isolators.
Raptor
Features and Benefits of Raptor Tracking Vehicle
4-Wheel Drive
Can take 15', 20', 32' and 43' Hydrascope Cranes with no problem
It is self-levelling on rough terrain.
The post is capable of rising 16" to give addition height.
It can be adapted to take Tank tracks for extreme mud and snow conditions.
Detailed Specification
| | | |
| --- | --- | --- |
| Standard Mount Height | 4'10" | 1.47 m |
| Maximum Payload | 2,000 lb | 909 kg |
| Maximum Speed on Level Ground (5th Gear) | 19.1 mph | 38 kph |
| Standard Operational Unit Weight less Payload | 2,100 lb | 954.5 kg |
A3 F Tracking Vehicle - NEW!
The Chapman UK A3 F is our class leading, camera tracking vehicle available to hire today. It's pact with features, able to carry multiple cameras in a many configurations, thanks to the A3 F's specially engineered exterior frame. Marry this up with Chapman UK's remote heads and vibration isolators for smooth & accurate tracking shots. The A3 F's power allows it to perform the role of larger tracking vehicles within a much smaller footprint and it's already been put to use on the Tom Cruise blockbuster, All you need is Kill - check out the video clip for a sneek preview of the A3 F Below is a summary of features and benefits.
Features and Benefits
Smooth & quiet 3.2 V6 petrol engine providing plenty of torque, capable of 0-60 in 6.5 seconds.
Multiple cameras can be mounted safely in multiple configurations, on the outside of the vehicle, front, side or at the rear.
Adjustable camera operator seating in numerous positions, front or rear facing.
Exhaust fumes can be re-directed for rear facing tracking shots.
Cable management keeps windows free from clutter.
Supplied as a 'ready to rig' tracking vehicle or with Chapman UK rigs and support.
Four wheel drive & low wheel base for stability and maneuverability.
Matte Black finish.
The A3 F V6 engine is powerful yet quiet combined with Audi's DSG automatic gearbox making this vehicle incredibly smooth for tracking shots.

Chapman KTM Motorbike
To create the most exciting tracking shots, you need equipment & skilled personnel that can deliver just that. Chapman UK's customised KTM Tracking Motorbike has ensured filmmakers continue to create unforgettable moments for such recent films as: Fast & Furious 6, World War Z & Worlds End, to name but a few. The Chapman KTM Tracking Motorbike is the only tracking vehicle of its kind, designed to carry a seated camera operator, safely and securely on the front or on the back. Its size and maneuverability open up a world of possibilities for tracking shots in confined spaces and hard to reach locations.
Features and Benefits
Only Tracking Motorbike that can carry a seated operator (inc' steadicam) on the font or on the back (facing backwards).
Custom designed aluminium space frame for mounting cameras & remote heads front and rear
World class motorcyclist as KTM operator
Proven on productions all over the world
530cc engine with hi-torque at low revs
5 speed wide ratio gear box for smoother gear shifts
On road and off road capability

Bickers Action are proud to offer one of the largest ranges of camera tracking vehicles and equipment in World. In excess of over 25 Tracking Vehicles to choose from, for any type of tracking shot achievable. All of our Tracking Vehicles are designed, manufactured and maintained in house by our Stunt Engineers and Tracking vehicle drivers in our fabrication workshops giving our crew full technical know how and input into there manufacture.
This allows us to build to our customer's needs and requirements to get the job done correctly and efficiently. All of our drivers/operators have many years service with this Company as experienced Mechanics/Stunt Engineers with most holding Class 1 HGV driving licenses.
In addition to this fleet of purpose built Tracking Vehicles, first class mechanical engineers provide 'on set' support with the option of fully equipped mobile workshops. All of our Tracking Vehicles are supplied with a comprehensive range of equipment for most rigging requirements and we can also offer more specialised equipment for specific and individual tasks.
Paul Bickers will be pleased to discuss your project requirements; all contact details can be found on the contacts page.
We operate a strict Safety Code of Practice and Safe Working Procedures for the use of Camera Tracking Vehicles, which must be followed at all times. We have Comprehensively Media Insurance for both Camera Tracking and Stunt Involved work.
RUSSIAN ARM | STEALTH 63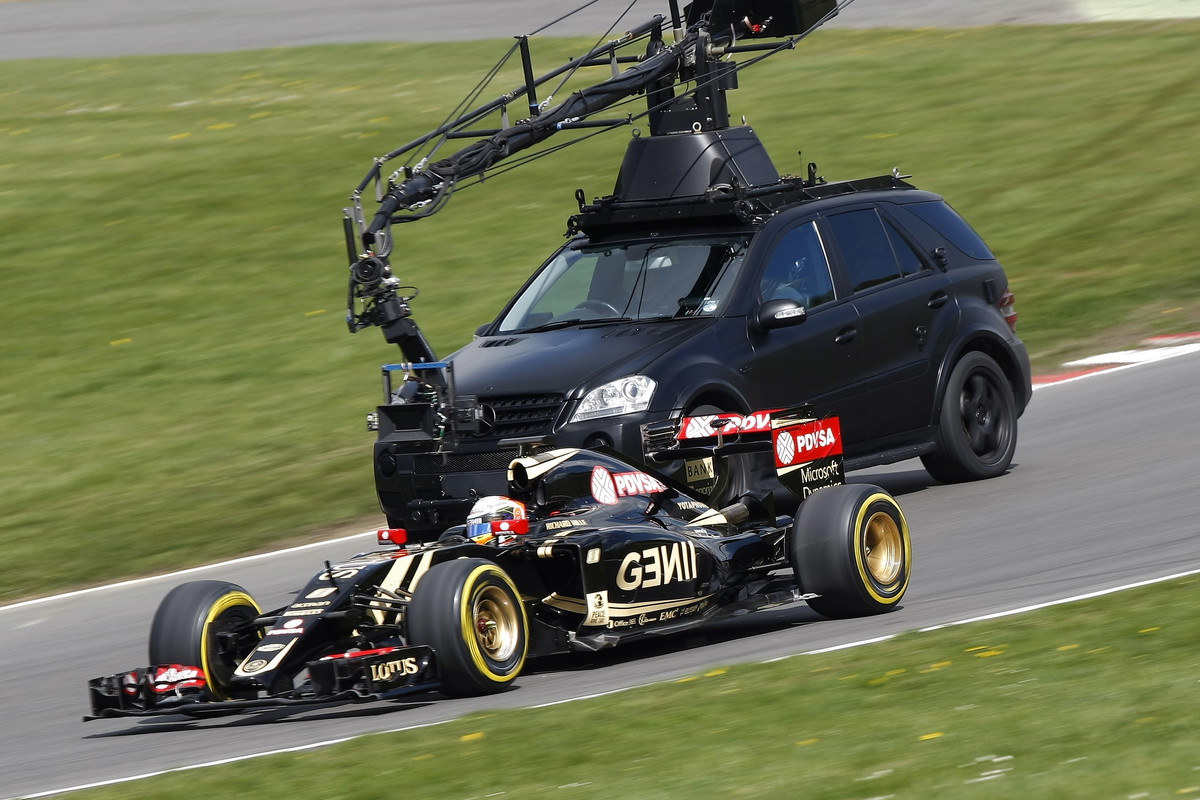 The Russian Arm and the Flight Head are a remotely operated gyro stabilised camera crane system which maintains the camera's stability whilst travelling at high speeds, across uneven roads or off-road. The Russian Arm is fully controlled from within the car and is capable of operating at Higher speeds when required.
The Stealth 63 is based on a Mercedes ML63 AMG 4×4 – V8 Engine 6300 cc with 500 BHP Ideal for Higher Speed Camera Tracking, built especially to carry the Russian Arm.
2x  Complete Russian Arm Set Ups available
TECHNICAL SPECIFICATIONS:
Gyro-stabilised Russian Arm – Pan & Tilt axis are both gyro-stabilised (Telescopic Arm also available)
Flighthead Gyro-stabilised Remote Head
Stealth Mercedes AMG ML63 Tracking Car fully integrated car with Comms
5x HD Monitors with Video Playback
Experienced Crew
1x Russian Arm Operator
1x Flighthead/Russian Arm Technician
1x Precision Driver
1x Flighthead Camera Operator (optional)
Transport
Fully Enclosed Transport Truck – The Russian Arm travels in a fully built form, No build time required at location, its own overnight storage Unit, which carries its own Generator for charging if hook up power is not available.
PURSUIT ARM
FULLY GYRO-STABILIZED, ROBOTIC CRANE FLEXIBLE LENGTHS WITH QUICK CHANGES MOUNTED ON 400 BHP VW TOUAREG V10
The flexibility of the Pursuit crane can be fully exploited in as little as 20 minutes from rolling off our own transporter. Unlike other systems, our unit comes complete with the 400 Bhp VW Touareg V10, Pursuit crane, monitors and intercom kit, the only thing left to do is decide on the arm length and install your chosen remote head and camera package. Can be used as a quick mobile crane or even a dolly over rough terrain rather than a fast tracking vehicle too. To complete the entire ready-to-roll package we can supply the Pursuit with our newest fully stabilised remote head, the Stab-C Compact. 
TO WATCH SHOWREEL CLICK HERE
PURSUIT CRANE
Lens Range (approx) 6.4m Above / 1.8m Below ground plane
Boom Length 3.7m, 4.9m and 6.1m
Minimum Clearance 3.2m
Max Vehicle Speed Unlimited
Operating Temperature Range No temperature limitations
Maximum Acceleration 90 Degrees per second
Pan Speed 360 Degrees in 4.5 seconds
Maximum Payload Weight 90kgs
FAST TRACKING CAR
FAST TRACKING CAR
Based on the famous Mitsubishi Lancer rally car, our 350 Bhp Evo tracking car comes complete with the unique Pursuit Post & Beam mounting system. Gone are the days of clumsy and unsafe scaffolding tube contraptions. Our system allows safe, quick and easy installation of remote heads or direct mounts - front and/or rear mounted! The Evo comes complete with front and rear post & beam system, Intercom kit and monitors.
TO WATCH SHOWREEL CLICK HERE
MITSUBISHI EVO VIII
Vertical Lens Range (approx) 2.4m
Maximum Speed Over 120mph
Height at top of Post 1.6m
Overall Width 1.8m
Overall Length (W/O Arm) 4.3m
Maximum Weight of Camera and Head 136 kgs
Vehicle Passenger Capacity 3 Passengers plus Drive.